The Polish Post focuses on electromobility. The first delivery e-cars join the fleet
Employees of Poczta Polska from mid-November this year. will deliver packages with the help of electric Nissan e-NV200. The post office currently has the largest fleet of utility electric cars in Poland.
The investment in the fleet of electric vehicles is part of the "Electromobility Development Plan in Poland" prepared by the Ministry of Energy. In the near future, electric Nissan will go to branches in Białystok, Bydgoszcz, Gdańsk, Katowice, Kraków, Lublin, Łódź, Poznań, Szczecin, Warsaw and Wrocław.
- Poczta Polska has decided to rent electricians because of savings, but also for the sake of air quality, reduction of CO2 emissions and the desire to provide employees with more comfortable working conditions. This is the first investment of this type, but probably not the last. As part of the "Electromobility" program being implemented, Poczta Polska will strive to modernize its fleet - says Paweł Przych arriv, Vice President of the Polish Post for Logistics.
Poczta Polska is counting on the benefits of renting electric cars. Experts estimate that they are less emergency and cheaper than combustion ones. It regards, among others that the electricians do not have a gearbox and clutch, the cost of a possible repair is high. In electricians, there is no need to change the engine oil, and brake pads and discs wear much more slowly. This is due to, among others from the fact that brakes in electric cars are used less often than in combustion cars. During retention, a large part of the energy is absorbed by regenerative braking, which charges the battery. But above all, it is cheaper to charge the battery than refuel.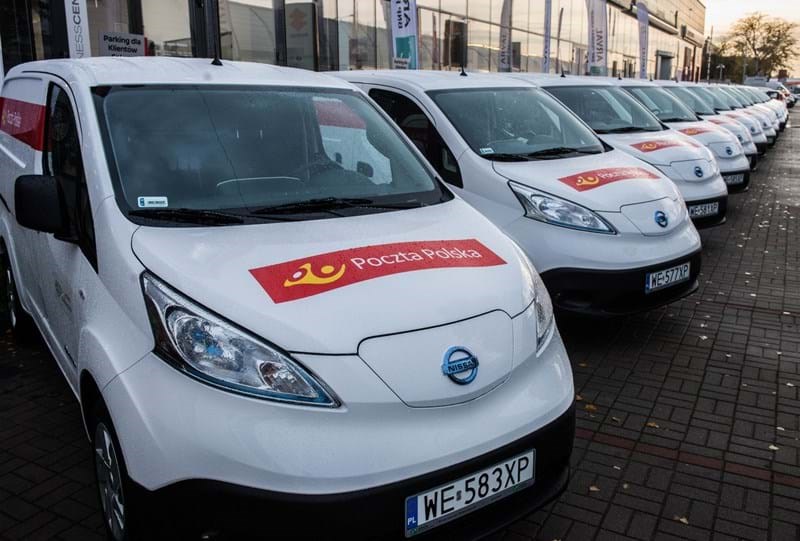 Nissan e-NV200, which will be used by Poczta Polska is equipped with an 80 kW electric motor and a 40 kWh traction battery, which will allow a maximum speed of 123 km / h and a range of 301 km in city driving according to the WLTP cycle. The vehicles can be charged with alternating current (AC charging, also from a 230V socket) or direct current ("fast" DC charging). The load capacity of the vehicle is 742 kg, the volume of the cargo space is 4.2 m3. Vehicles have, among others regenerative (recuperative) braking and parking assistance (reversing camera with integrated driver's side mirror). The loading space on the floor will be lined with non-slip lining. The vehicles are white, marked with the logo of Poczta Polska, with a designed indication that the vehicle is electric.
- The Nissan e-NV200, which has just joined the fleet of Poczta Polska's park, is a perfect combination of a compact van with high load capacity and a quiet, emission-free electric drive - said Agnieszka Łyżwińska, Sales & Network Director at Nissan Sales CEE.