It's here! New Kia Proceed at the Poznań Motor Show
Family and compact shooting brake.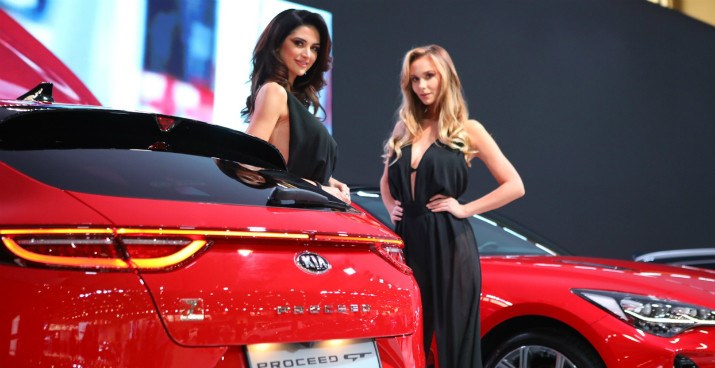 ProCeed the first such model from Kia and the first such car in the segment of popular compact cars. ProCeed is a unique combination of a unique industrial design with a spacious and functional interior. Hats off to Kia stylists who did something that seemed impossible - a combination of two opposing worlds. The new ProCeed is a family-friendly compact shooting brake that is to be an alternative to three-door hot hatch and traditional functional station wagons. This car is at the top of the Ceed model range. It is recognizable as the most advanced model in the family in every respect.
The proportions of the ProCeed body differ from those of the other Ceed family members. With the five-door hatchback, ProCeed shares only three body parts: the engine cover and front fenders. Other body parts have been redesigned. The shooting brake body is an alternative to traditional three-door hatchbacks and combines excellent proportions with compact dimensions that are responsible for the car's agility. With a DNA coupé, the ProCeed body is lower and longer than the Ceed hatchback and station wagon bodies. Despite the very sloping body line that compact family cars don't have, the ProCeed boot has impressive capacity. The question now is whether this car is attractive for different ages? Of course. It has style and space, so it is ideal for carrying the whole family.
ProCeed catches the eye, while guaranteeing driving fun and very good performance. The ProCeed suspension is 5 mm lower than the Ceed hatchback and station wagon versions. The characteristics of the springs and shock absorbers have been adapted to the increased dimensions of the shooting brake body and greater rear overhang. A team of engineers was responsible for tuning the suspension of this model, whose work was supervised by Albert Biermann - a man who for many years was the head of engineers responsible for the BMW M series! Tuning the suspension system took an additional six months over the typical tests planned for ProCeed. Their goal was to achieve greater car agility in corners and to improve traction and steering response.
As the most sophisticated body version of the new Ceed family, the Kia ProCeed is only available in the GT Line version and as the GT model. The ProCeed engine range consists exclusively of turbocharged engines with 120 to 204 hp. If we add to this systems that increase safety - a light change assistant, driver fatigue sensor, lane keeping with emergency braking function and a traffic jam assistant - we get a really unique product that arouses emotions and attracts the attention of all lovers of sports coupé style.
The ProCeed engine range consists exclusively of turbocharged engines with 120 to 204 hp.