Grupa MTP as a partner of the Economic Forum in Krynica
How to engage in the mainstream of the 4th Industrial Revolution effectively? How to maintain competitiveness, export expansion and continued GDP growth? Answers to these and many other questions will be sought jointly by the participants of the discussion panel of the Grupa MTP during the upcoming Economic Forum in Krynica.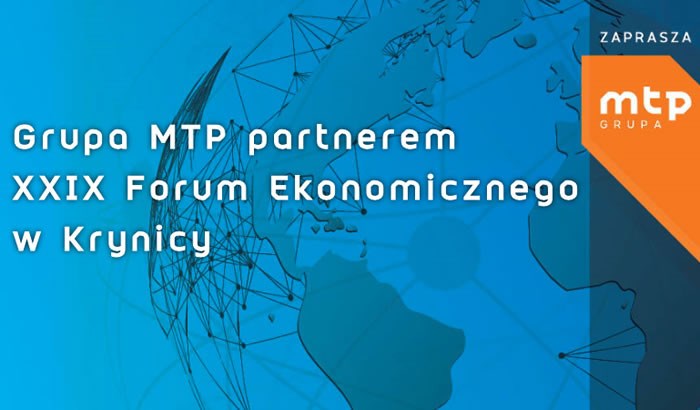 As Professor Witold Orłowski points out - The opening of the Polish economy to the world and a radical improvement in competitiveness is one of the main changes that took place during the transformation period.  Over the past 30 years, we faced an export miracle, the increase in the scale of Polish exports which was unimaginable and whose scale is probably still not widely noticed. In this period, extremely strong changes also took place in the structure of Polish exports, consistent with the processes of modernisation of the economy and joining the European labour distribution. The changes that have occurred are impressive and have meant that Polish companies have moved up the global value chain. However, this may not satisfy us at present: the country's ambition should be for more and more companies to reach the top of the chain.
During the 29th Economic Forum in Krynica, in the framework of the Grupa MTP discussion panel "How to achieve success on global markets", the biggest challenge that Polish companies will have to face in the coming years - the 4th Industrial Revolution, will be discussed. The following experts will discuss how to effectively engage in the mainstream in order to maintain competitiveness, export expansion and continued GDP growth:


Ms Jadwiga Emilewicz- Minister for Entrepreneurship and Technology
Nick Dugdale-Moore- Regional Manager Europe UFI The Global Association of the Exhibition Industry
Dr Wolf-Stefan Specht- President of VW Group Poland
Andrzej Wodzyński - President of the Tubądzin Group
Grzegorz Miechowski

 

- President of the Management Board of 11bit studios
the presentation of the business leader will be provided by Przemysław Trawa- President of Grupa MTP
The discussion will be preceded by a presentation of the Report  "Polish Exports 1990 - 2019. Unfinished Revolution" by Professor Witold Orłowski.
Start of Grupa MTP discussion panel on Wednesday, 4 September at 13:05.
Live coverage will be available on the profile of  Grupa MTP on Facebook.